Fall Grilling Tips and Recipes
Why stop grilling in the fall? Seventy-six percent of consumers polled by the Hearth, Patio & Barbecue Association say fall is a prime time for outdoor grilling because cooler weather provides ideal grilling conditions.
Here are some grilling tips and recipes from around the web that we curated for you so you can keep grilling through the fall.
Roasted Vegetables: Although we love to roast any vegetable we can get our hands on, popping them on the grill is an easy to eliminate most messy clean ups. You can halve a squash (of your choice) and give it a rub down with the olive oil, salt and pepper and pop it straight on the grill. The best part is, no heavy or awkwardly large roasting pan to clean up later! If you'd like to use a grilling tray you can or even make a boat out of foil to hold in a little more oil if you so desire.
via The Kitchen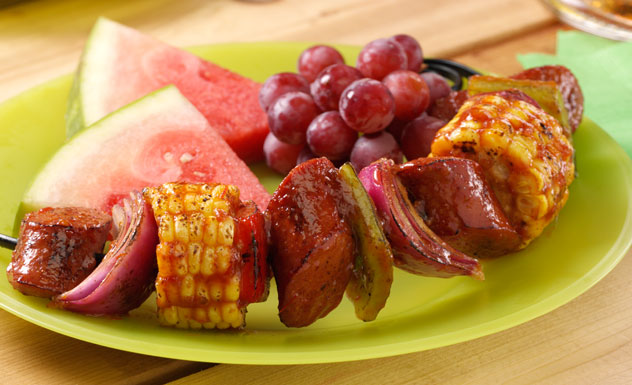 Chili sauce, brown sugar and mustard are mixed together to create a tangy sauce to glaze these beef frank, sweet corn, red onion and bell pepper kabobs.
Via Forkful
Is there anything more representative of fall than the pumpkin? While it's best to leave the big ones for carving, the smaller sugar pumpkins are great for roasting on the grill. Over indirect heat, halved sugar pumpkins take a good 45-60 minutes to completely soften. This gives them ample time to pick up a little smokiness, making the grill a more interesting choice over the oven. The soft, sweet flesh of the pumpkin can be scooped out and enjoyed as is, or turned into a whole variety of things—I've done both pumpkin ravioli and curried pumpkin soup with excellent results.
Via Serious Eats
Some Things Never Change
Many grilling tips apply to cooking during any season:
Don't flip or poke at food on the grill any more than is absolutely necessary
Check the temperature of the meat to verify it is cooked all the way through
Clean and oil your grill grates after a cooking session
Let steak, chicken, and chops rest before cutting into it
Via 5StarBurgers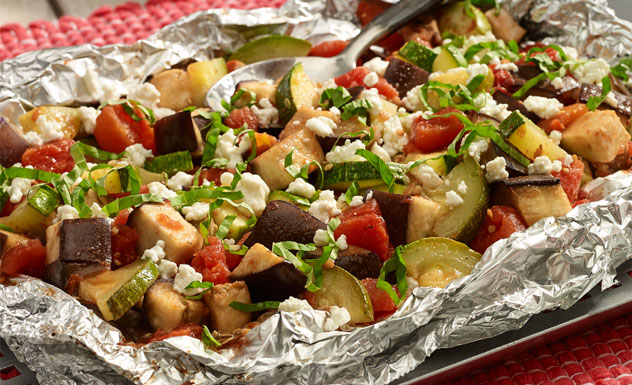 To make this 3-step side dish just toss some fresh eggplant, zucchini, diced tomatoes and garlic salt together in a large bowl. Throw your veggie mixture into a foil packet and get your grill on.
Via Forkful
Two Tips preparing for Fall/Winter
Protecting Your Grill
Winter means snow and wind and as of last winter, more snow. For a change of scenery, I tend to move the grills around our back deck. However, as winter approaches, I look to put them in a more sheltered and protected location. I want to minimize the impact from falling snowflakes and stiff breezes, as both can impact cooking times and also, as equally important, griller comfort.
Cleaning
If your grill goes to rest over the winter months, a good clean come spring will suffice. However, if winter is simply the halfway point of your year long grill adventure, a fall clean is probably a good idea. My last thorough clean was in May. As I hoisted the lid on my Summit Grill Center last night, I peered down into the grates and drip pan. It needs a good clean now, as well as the removal of some fallen spears of asparagus.

This is the time of year I wait for an unusually warm day to "fall clean" my grills. It's a lot easier to do when the weather is still nice. All of our tips for a spring clean are just as important now.