10 Ideas for Decorating with Lights for Christmas
Here are 10 fabulous and fun ways to decorate with Christmas lights this season that will, hopefully, convince your family and friends that you can even decorate with them before Thanksgiving next year.
We've curated tips, tricks and design inspiration from around the web for your Christmas and holiday light display this year. We'll be adding more to our Pinterest board – Christmas Lights, Accessories and Ideas – so follow up online.
Firefly Lights
One of the newest types of string lights are called firefly lights. They are smaller lights on inconspicuous wires that are a much cleaner look than traditional mini lights. They can come with an attached battery pack for areas that have no power plug ins, and those packs usually have timers so you never forget to turn them off! (If you use traditional string lights, consider getting a timer you plug in to the wall, then plug the lights into, at the hardware store.) Look at your craft stores, or online for firefly lights. Restoration Hardware sells the starry lights in the photo above.
via Decorating Your Small Space
Fireflies lantern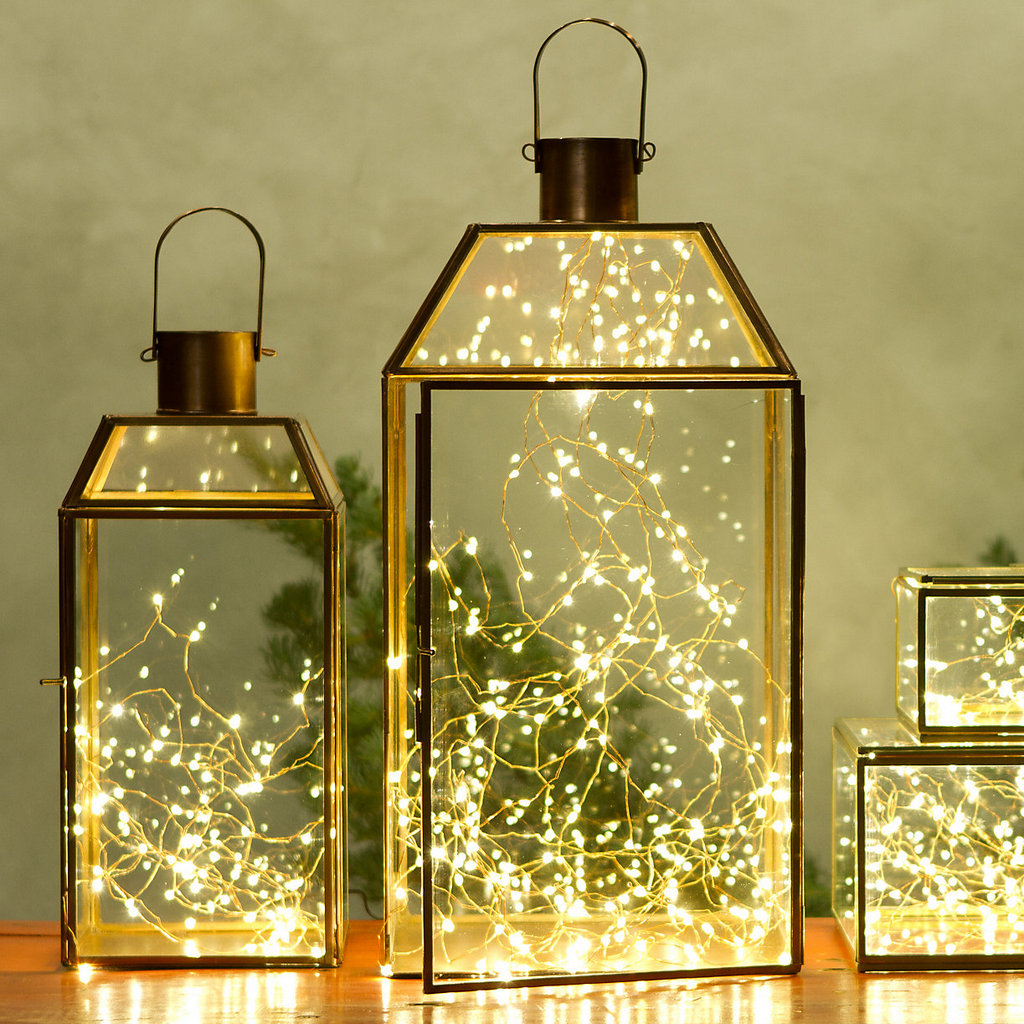 Easy DIY Christmas decoration that looks beautifully festive with stargazer lights.
Via Craftionary
Christmas Outdoor Snow Lanterns
If you don't like the idea above, then this one might win you. Those are cotton balls covering tea lights inside. They soooo look like real snow right?
via Decoholic
Create cozy spaces!
To achieve this look, hang LED snowflake lights from the ceiling and across mirrors to create your own winter wonderland indoors! You can use all kinds of Christmas lights to create your own unique cozy atmospheres!
Tomato Cage Christmas Tree Lights
This project was really just a matter of strategically wrapping a string of Christmas lights around an upside-down tomato cage to get the look and feel of a Christmas tree.
via 17 Apart
Driftwood Christmas Tree
Step by step tutorial on how to make your own driftwood at home to use in driftwood crafts and projects. If you've ever wondered where to get driftwood.
via Driftwood
Lighted Burlap Garland
Lighted Burlap Garland find the step-by-step directions here
Reindeer DIY Centerpiece
Got some branches lying around, make it into an amazing table centerpiece! Make Santa's favorite reindeer this season by following these instructions
Porch Looks
An inspired porch look. More ideas here.
via Style Estate
Christmas Light Balls
Christmas light balls are extremely popular outdoor Christmas decorations that are unique in appearance. Many times found in holiday light shows, botanical gardens, and other elegant displays, Christmas light balls are actually easy to make with just a few supplies. Step-by-step directions here.