Show Notes: If You've Got It, Haunt It!
Hay there, listener!
Here are just some of the topics the Carey Brothers discussed to spice up your weekend!
A BOOtiful House for sale!
The YARDMAX Fall Sweepstakes Winner is announced!
Falling into winter = watching movies inside = time to mount your TV on the wall!
You'll go bat-ty for these tips on how keep bats out of your house!
Some Not-So-Scary Home Improvements!
Oh my gourd! We got calls from Matt Muenster of DIY and HGTV, Peter Daich, and Dave Smith calls us from a sound tunnel!
And more….
---
 Haunted House For Sale! Some say it's BOOtiful.
It also might be that people who have ghosts in their attic also have bats in their belfry.
While its not much of a problem for new-home builders as their products normally have not been lived in, there apparently are haunted houses out there, and millennials are willing to buy them.
That's according to Realtor.com®, which today released its annual Haunted Real Estate Report. The new report found that one in three people – especially millennials – were willing to take a chance on a haunted home if there was something to sweeten the deal, while 18% of people say that the haunted nature of the home wouldn't affect their purchase decision at all.
When asked to decide between purchasing a haunted or non-haunted home, respondents fell into the following three categories:
• I'll buy, but I need a something more: A third of the respondents were willing to take a chance on a haunted home if presented with additional features. Topping the wish list was a cheaper home price (15%), followed by a tie between a larger kitchen and better neighborhood (9%). Millennials are the most price-sensitive of all demographics, with 17% persuadable by a lower price tag.
• Nothing else required: Surprisingly, 18% of people wouldn't require any additional features to choose a haunted home over a non-haunted home. Nearly a quarter of those aged 35-54 said they wouldn't be affected by the haunted nature of the home while making a purchase decision.
• Would not buy, not for anything: For the remaining 49%, there's no price low enough or kitchen large enough to make them purchase a haunted home. The older generation of home buyers is the most reluctant to move into a haunted house, with 61% of those over 55 insisting that they would never buy a haunted home as opposed to 41% of millennials and Gen X'ers.
Living in a haunted home is more common than one would imagine, and not necessarily a surprise to the occupants. Nearly two in five people believe they have lived in a haunted (or possibly haunted) house, and 44% of them either suspected or were fully aware of said haunting before moving in. In fact, the majority of people under 55 years old suspected — or were sure — their home was haunted before they moved in, a decision possibly incentivized by a lower home price or better neighborhood. Hearing strange noises (54%) topped the list of most common spooky behaviors, followed by odd feelings in certain rooms (45%) and erratic pet behavior (34%).
https://www.builderonline.com/design/consumer-trends/buying-a-haunted-house-is-okay-for-some
CONGRATULATIONS RAY!
Ray is the winner of the YARDMAX Fall "Power to do the Job" Sweepstakes!! He is the lucky winner of
Largest Capacity Concrete Mixer, 5.0 Cu. Ft. Concrete Mixer (Model Number: YM0146) $349.00
Most Powerful Plate Compactor, 3000lb Compaction Force Plate Compactor (Model Number: YC1390) $699.00
Versatile, Multi-Use Sweeper, Power Sweeper (Model Number: YP7065) $799.00
AND a $200 VISA Gift Card!!
We got the opportunity to talk about Daich Coatings New Products with Peter Daich!
Learn more at the Daich coatings website: http://daichcoatings.com/daich-diy-homepage.html
Selecting the Right TV Wall Mount Bracket
As we fall into the colder months, you'll be spending more time indoors in front of the TV. It's the perfect time to mount that TV up on the wall.
Mounting a flat panel TV on the wall is one of those jobs where a little know-how can save you a lot of money. Professional installation costs anywhere from $150 to $350—plus the cost of the mount itself. But if you can handle some precise measuring and drive a few screws, you can do a first-class job yourself in about an hour. We'll show you how to wall mount a TV. Plus, we'll sift through the confusing variety of mounts and help you choose the version that's best for your situation.
Dozens of models, three styles:
Don't get overwhelmed by all the wall-mount makes and models. They're all just variations of three basic styles. The three styles differ mainly in how much they allow you to adjust the position of the screen. Adjustments can eliminate glare and increase viewing comfort in other ways, too. But adjustability is most important for picture quality. Like a computer screen, the picture on a TV screen is clearest when viewed straight on. So a mount that offers more adjustability gives you a clearer picture in more situations and may even increase your options for where you can place the TV.
Most flat TVs are designed for a wall mounted tv, but make absolutely sure yours is before you shop for a mount. Look for "VESA" (Video Electronics Standards Association) on the manual or the TV itself, followed by a number such as "VESA 75." Any mount with the same VESA number will work with your TV. Also consider wiring before you choose a mount. If you plan to run wiring inside your walls, the mount design may determine how and where you can install an outlet and cable connections.
Low-profile mounts
Basic mounting
Low-profile mounts ($25 to $150) hold the TV close to the wall. That creates less of an obstacle along traffic paths and reduces the risk of TV damage or bruises.
Tilting mounts
More adjustability
Tilting mounts ($50 to $200) let you mount the TV above eye level or tweak the angle to suit the situation—something you may want to do if you're watching TV from the floor one day and the sofa the next.
Full-motion mounts
Most versatile option
Full-motion mounts ($100 to $500) allow you to tilt, swivel, pan and extend the TV. That means you can pull the TV away from the wall and turn it to the left or right, to face the viewer.
https://www.familyhandyman.com/walls/how-to-hang-a-flat-screen-tv/view-all/
 Keeping Bats Out Of Your House
The big brown bat is found throughout most of the United States and Canada. It feeds principally on beetles.
Some bats live in buildings, and there s no reason to evict them if there is little chance for contact with people.
Bats must not be allowed into your home. It's best to contact an animal-control or wildlife conservation agency for assistance with "bat-proofing" your home. If you choose to do the "bat-proofing" yourself, here are some suggestions.
Carefully examine your home for holes that might allow bats entry into your living quarters. Caulk any openings larger than a quarter-inch by a half-inch. Use window screens, chimney caps, and draft-guards beneath doors to attics, fill electrical and plumbing holes with stainless steel wool or caulking, and ensure that all doors to the outside close tightly.
Prevent bats from roosting in attics or buildings by covering outside entry points. Observe where the bats exit at dusk and keep them from coming back by loosely hanging clear plastic sheeting or bird netting over these areas. Bats can crawl out and leave, but cannot re-enter. When all the bats are gone, the openings can be permanently sealed.
Avoid doing this from May through August. If there are young bats in your attic, many of them can t fly and keeping the adults out will trap the young who will die or try to make their way into your rooms.
Most bats leave in the fall or winter to hibernate, so these are the best times to "bat-proof" your home.
For more information about "bat-proofing" your home, contact
Bat Conservation International.
Source: https://www.cdc.gov/rabies/bats/management/index.html
Your Dream Bath
Brought to you by American Standard Walk-in Tubs
Andrea from Texas wants to know how to scrub-a-dub-dub her marble bathroom. The Carey Brothers give her some tips to keep her bathroom squeaky clean.
Peter Daich of Daich Coatings
He discuses with the Carey Brothers some ways he recommends to keep our concrete walkways safer this winter!
Devilishly Fiery Crackers
This DIY spicy-sweet party snack is sure to spark taste buds
4 cups oyster crackers
¼ cup pure maple syrup
2 tablespoons unsalted butter
6 thyme sprigs
3 tablespoons sriracha
Directions
Preheat oven to 275 degrees. In a small saucepan, combine syrup, sriracha, and butter; bring to a boil and stir until combined. Toss with crackers and thyme.
Spread onto a parchment-lined rimmed baking sheet and bake until coating is set, stirring a few times, about 45 minutes. Let cool completely before serving. The crackers can be stored for up to a week in an airtight container.
Enjoy!
https://www.marthastewart.com/1118666/fiery-crackers
Not-So-Scary Home Improvement Repairs
Halloween jokes aside, some DIY projects can be downright scary.
Here are some great tips from Chris Zeisler of RepairClinic.com

Front-Load Washer
Dryer
Refrigerator
Check Air Flow – Air flow is critical for proper operation both inside and outside of the refrigerator cabinet. A damaged evaporator fan or an obstructed vent will prevent the air from circulating properly between the freezer and refrigerator compartments. Since overheating is the main cause of compressor failure, you should maintain good air flow outside the cabinet by ensuring that the rear of the appliance is kept a few inches away from the wall.
Microwave Oven
Lawn Mower
Furnace
Source: https://www.repairclinic.com/
Rockwool Stone Wool Insulation 
We spoke with Dave Smith from a Lowes store in Boston in the Rockwool Sound Tunnel in the parking lot!
Rockwool stone wool is one insulation with multiple benefits. The main benefits are:
Fire resistant – Stone wool does not burn so it slows the spread of fire in a home.  We are doing a burn demonstration today in the parking lot at this Lowe's store (identify the specific store location).  You guys have seen this demonstration before…
Sound insulation – Life is Loud and stone wool helps you create quieter spaces in your home.  We have professional drummer Casey Cooper here and he has his drums set up in a room insulated with Rockwool stone wool.  People can walk through the room and there is a huge difference in sound inside and outside the room.
Thermal insulation – This is what we all think of first with insulation.  It's to keep our homes warm in winter and cool in summer and stone wool has excellent thermal insulation properties.
Learn more about them at their website: https://www.rockwool.com
We talked to Matt Muenster!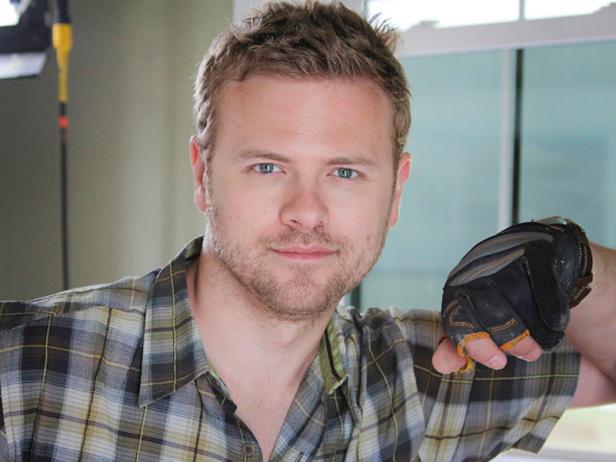 You may know Matt best for his work hosting shows on HGTV and DIY Network.  His resume includes Bath Crashers, BATHtastic!, Ellen's Design Challenge, HGTV Dream Home 2015
---
That's it for this week! Tune in next week for more DIY tips and tricks!